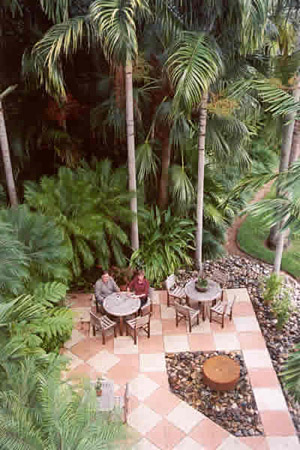 Ellin Goetz holds the philosophy that good design matters, and the work of her firm gives clear evidence of that intent.
The firm was formed in 2001 after Ms. Goetz had been working as a registered landscape architect in Florida since 1986.
The new Naples Botanical Garden, the grounds of the historic Edison & Ford Winter Estates, Marco Island's Mackle Park and Naples' von Liebig Art Center reflect her firm's distinctive style, always acknowledging the more subtle aspects of the southwest Florida environment.
Her work taps into the history of a place, seen as she picked up on a 1950's Naples tradition of flowering street trees and reintroduced spring blooming Tabebuia trees as part of the revitalization plans for that city's premier downtown 5th Avenue South Shopping District.
Her work makes a tongue-in-cheek reference to the pattern of agriculture with the magnificent live oak trees now lining the boulevards of The Vineyards of Naples, a community built on land that was once used for growing tomatoes and raising cattle. She carefully inserted a parking area into the Visitor's Center for Corkscrew Audubon Sanctuary that will fool you into thinking it has been part of the natural fabric there for a very long time. And six neighborhood parks in Bonita Bay's Mediterra community invoke themes of astrology, time, meditation, the senses, and of Florida and Calusa culture, as never before seen in Southwest Florida.
She also promotes the use of easy-care water gardens filled with sun-loving tropical plants, seen at The Naples Beach Hotel & Golf Club, Parque Celestial in Mediterra and The Norris Gardens at Palm Cottage in Old Naples. Her sensitive rejuvenation of the 1927 Moonlight Garden contributed to the Edison Estates receiving an Award for Outstanding Achievement from the Florida Trust for Historic Preservation.
GOETZ+STROPES recently completed the initial stages of the 160 acre $25 million Naples Botanical Garden where they are principal coordinating landscape architects for the LEED certified complex which opened in late 2009, design for recreational improvements at Mackle Park on Marco Island, and the Botanical Classrooms for Florida Gulf Coast University in Naples.